Real Estate Market Adjustment: What You Need to Know
Are you looking to buy or sell a home? Understanding the current market and how it may affect your real estate goals is important. In this blog, we'll take a look at local real estate data for homes for sale, pending sales, and homes that went under contract. We'll also discuss how long homes are staying on the market and what the experts are predicting for the future of real estate in 2023.
Local Real Estate Data
When it comes to real estate data, it can be helpful to know the number of homes for sale, pending sales (those under contract), and closed sales. This information can help buyers make educated decisions when looking at potential properties. It is also beneficial for sellers who want to understand what price points their competition is offering. As a general rule of thumb, if there is more inventory than there are buyers in an area, prices will generally drop until they reach an equilibrium point where supply meets demand. Fortunately, this is not the case in our local market, as inventory levels are still historically low.
Below are active graphs showing a monthly comparison over a 3-year span.
Pending home sales are down 49% in November
Closed homes sales are down 41% in November
Homes for sale are up 31% in November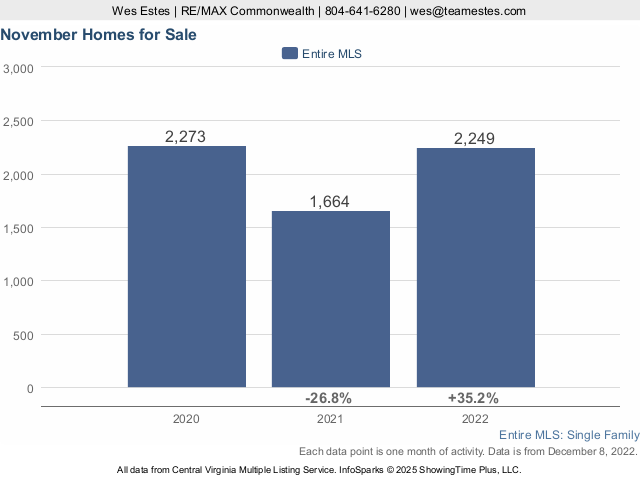 How Long Homes Are On The Market
It is also important to consider how long houses stay on the market before they go under contract or get sold. In today's market, this time frame, while up some is still aggressively low due to increased competition from other buyers vying for available housing stock. Sellers who list their properties too high could find themselves with fewer or no offers—and buyers who don't act quickly enough could find that their dream home has already been snatched up by someone else!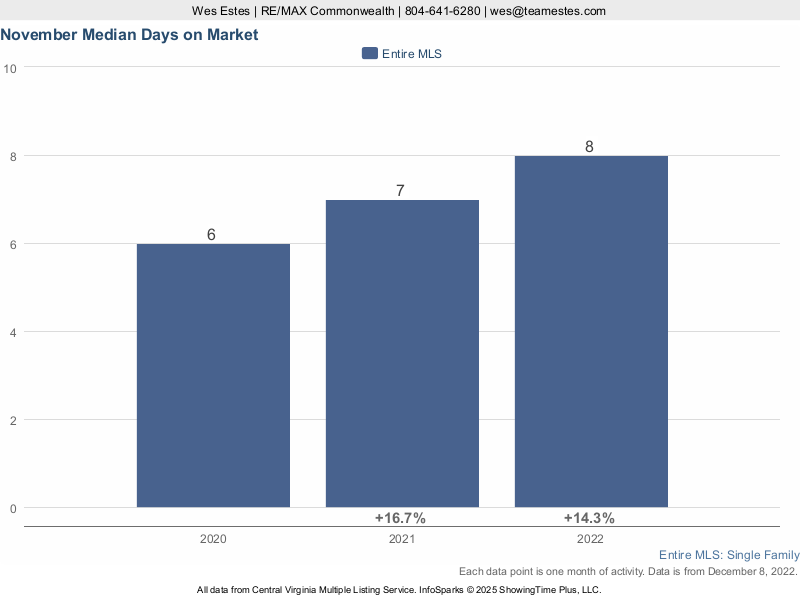 What To Expect In 2023
The outlook for 2023 is far from bleak—in fact, some experts predict that upwards of 30% of real estate agents will get out of the business in that year. Additionally, housing values could adjust downwards by as much as 7-10%. While this might seem like bad news at first glance, it's actually good news for both buyers and sellers—as long as they are well-informed about their local markets and realistic about their own goals.
Conclusion:
Being prepared is key when it comes to entering into any real estate transaction—especially in today's rapidly changing market. By understanding local real estate data such as available listings, pending sales and homes that have gone under contract, you can better prepare yourself whether you're buying or selling a home. Additionally, knowing what industry experts are predicting in terms of housing prices and agent numbers will help you make informed decisions about your own goals in 2023 and beyond. If you need help navigating these tricky waters or have any questions about selling or buying a home now or in the future, please reach out! I'm happy to help!